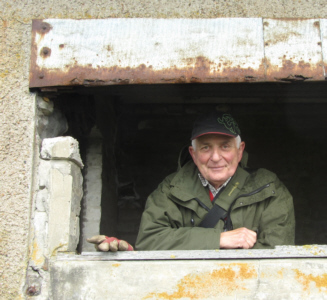 Sinclair Dunnett in a WW2 lookout on north
Moray Firth Coast, during path work for
John o'Groats Coastal Trail
Photo courtesy
Lynn Anderson

Sinclair Dunnet
t/a
Go-ORKNEY since 1995
and
Puffin Express since 1999

Based in INVERNESS, Highlands of Scotland

Visitor/tourist activities were very restricted in Scotland in 2020, as in most of the world, due to "Mr Covid 19".

This is a "skeleton" page, outlining my activities as a guide and (small) tour operator. We are hoping of course that Scotland will become more available to visitors in 2021, and this web page will then be expanded.
I am an experienced, knowledgeable, entertaining tour guide with particular expertise in the northern Highlands of Scotland and Orkney. Also a graduate of the Universities of Edinburgh and Aberdeen.
Since 2016 or so, I have divided my time between March and October:
Driving for Highland Experience, a leading operator of 1-3 day trips out of Inverness to various destinations;

Guiding parties off cruise liners; mostly those docking at Invergordon - twenty miles or so north of Inverness - but also some docking in Portree (Isle of Skye); Scrabster (north coast); Oban; and Fort William.
Small group private tours to any destination(s) in Scotland; one day or a fortnight, as clients wish.
I am available also as a step-on guide for coach parties, for single days starting from Inverness, or extended tours, starting from anywhere in Scotland. Guiding in English or French.
I cover most aspects of Scotland. I have particular interest and expertise in:
wildlife - birds, mammals, wild flowers, archeology/prehistory, land use.
I also cover (i.a.) political and social history; basic geology; and daily life in contemporary Scotland.

My first language is English. I also have workmanlike French. some Dutch, Latin (!), Kiswahili, some phrases in Polish.

When speaking English to those who are not native speakers of the language, I speak slowly, separating my words.

I carry pocket dictionaries in "esko [Czech] Dutch, French, German, Icelandic and Polish, which can help if we get stuck with a technical word; tho' I appreciate that with smart phones "analogue" dictionaries may now be redundant.

I am happy to lead moderate walks on recognized paths or routes (up to 10 miles/1,000' of ascent; 16km/330 metres).

On all private tours, and some others, I carry a tripod-mounted telescope to give clients closer views of seals and deer, and Puffin - in season!
Sinclair Dunnett
8 March 2021